Once every 5 years, Canon holds the "Canon Expo". In 2015 the Canon Expo was held in Paris, New York and Tokyo*. For Canon, the expo serves as platform to show not only what Canon has been able to achieve thus far, but also as a launching pad for what the company is working on, has confidence in and what we, the consumers (professional, amateur and those in between) can expect to see, to touch, to feel and with which we can capture images/video in the very near future (hopefully before the next Canon Expo in 2020) The Canon Expo is a comprehensive product showcase, R&D forum and PR event all rolled into one. With the 2015 Canon Expo Tokyo, taking place on Canon's home turf and country of origin, Japan, Canon had a lot to show and show it in a big way.
*It will also be held in Shanghai in 2016. It was held there previously in 2011
8K video technology
While Imaging is the core and foundation of Canon, one of the themes that stood out at the 2015 Expo was 8K video technology. With 4K (a.k.a. UHD) already a household phrase affordable for and found in many households, Canon looked to the future and demonstrated how crisp and clear it will be. Canon featured a lineup of 8K Cinema EOS cameras as part of their technological demonstration; simply put, not actual products that will be available for sale anytime soon.
The 8K cameras are part of a suite of 8K devices including 8K monitors, 8K projection methods and even 8K printing solutions. On the surface, the 8K camera is the same as the C300 mkII apart from a few extra ports. The real differences are inside. The sensor is 8K and there are no internal recording options. Instead the camera feeds out RAW images up to 60fps via four SDI connectors to a special de-bayer box, which in turn feeds it into four separate Convergent Design Odyssey external recorders. These record onto SSD in the same Canon RAW format used by the C500 to record 4K. The resulting footage generates a whopping 11TB of data per hour of recording. No, there is NO compressed recording option. Recorded/captured footage can be stitched, in post-production, using an automated tool. There is also a live/real-time production camera option. By adding more boxes the 8K signal can be fed into a broadcast system. This may be an option for Japan, Japanese broadcasters and content producers; however, the rest of the world may not jump on the badwandwagon.
A working auto focus system and the ability to output to in 8K high dynamic range display in BT.2020 are also some of the standout points of the 8K camera system.
There was also an 8K immersive "ride". This short tour through small towns and beautiful quotidienne European scenes Looking at the footage from the Canon 8K camera footage projected in 8K (using four 4K projectors) was impressive because of the real-time processing and blending involved, as well as the experience itself. There was a life-like appearance that made it feel as if the viewer was looking THROUGH a window and not AT a screen.
Extremely High Resolution Imaging
Another highlight at the event was the opportunity to see Canon's amazing imaging technology at work. This was best manifested in the working version of Canon's 120MP DSLR. At first glance the camera body looks uncannily similar, almost identical, to Canon's other EOS DSLR series cameras. However, it's what's inside that sets this camera apart from the rest of Canon's offerings and as well any other commercially available camera on the market.
Although the EOS 120M Camera System is not available for sale, Canon demonstrated the market readiness of the system by attaching a standard Canon 24mm-70mm lens. In order to demonstrate the power and capabilities of the 120MP DSLR camera system, two demos using the camera were set-up. One of demos featured the camera facing directly down at a miniature scene. The image from the monitor was fed to a screen where one could see all the intricate details as if they were blown-up with superb clarity. In the other set-up, the camera was aimed at an extremely high resolution print (also one of Canon's innovations) on a wall some meters away. The print was a portrait of a young caucasian girl. After checking the feed from the camera on an external monitor, the microscopic level of detail that the camera captures is made clearly evident. It was possible to every minute detail and pore. Each eyelash and freckle was easy to distinguish by navigating the still image. According to Canon, the average size of each image captured with the 120MP camera is approximately 250MB; many times larger than current cameras and smartphones.
It is yet to be seen when Canon will release this technology into the market. Furthermore, the way in which such high megapixel images will be used and by whom will be interesting to see. From a personal point of speculation, the 120MP camera system will be a great entry way into the new and uncharted world of 8K independent filmmaking. With the technology in place, the filmmakers and storytellers will be able to explore new avenues much like what the EOS 5D models did early on for documentarians and creators making time-lapse 4K sequences. Most of all, unnecessary zooming in and out will be all but forgotten as even a crop of the image will be extremely detailed and clear.
Venturing into Virtual reality
Following the trend that is pervasive with anything and everything electronic or digital for the last few seasons, Canon unveiled their own VR HMD and capture rig. Like many of the other technologies on display, this was also not slated for public release anytime soon. First the head-mounted display: it was big. No, it was huge. Unlike current HMDs that are on the market – which range from cardboard DIY boxes fitted with smartphones to the ubiquitous Oculus Rift – Canon's take was a handheld device that the user holds with both hands. While it was bulkier than other HMDs, one Canon assume Canon had a reason to chose this design.
The reason, besides security concerns of theft, were probably the amazing level and attention to detail and light. While being immersed in a VR world with colorful singers and dancers, what stood out more than the beautiful imagery was he brightness. It was just right. This is where Canon has an upper hand on other in the field. The imaging and sensors can capture and exploit the right amount of light; something that doesn't always happen in VR.
The rig itself was proprietary and made specifically to house and mount multiple DSLRs fitted with lenses to capture the 360° environment. The VR rig that Canon was demoing was big and heavy because it had to be. Instead of trying to reinvent the wheel, Canon's approach to VR seems to be going in the right direction.They are trying to carve out a niche for high-end VR that focuses on the importance of capturing the image and action as well as the image and action itself.
At the Canon Expo 2015 in Tokyo, the future of imaging was on display. Moreover, the convergence and crossover of digital imaging and presentation of reality was the focus. Instead of just capturing real-life scenes and scenery, Canon is aiming to re-create what we see and do it in a clear, crisp and life-like way.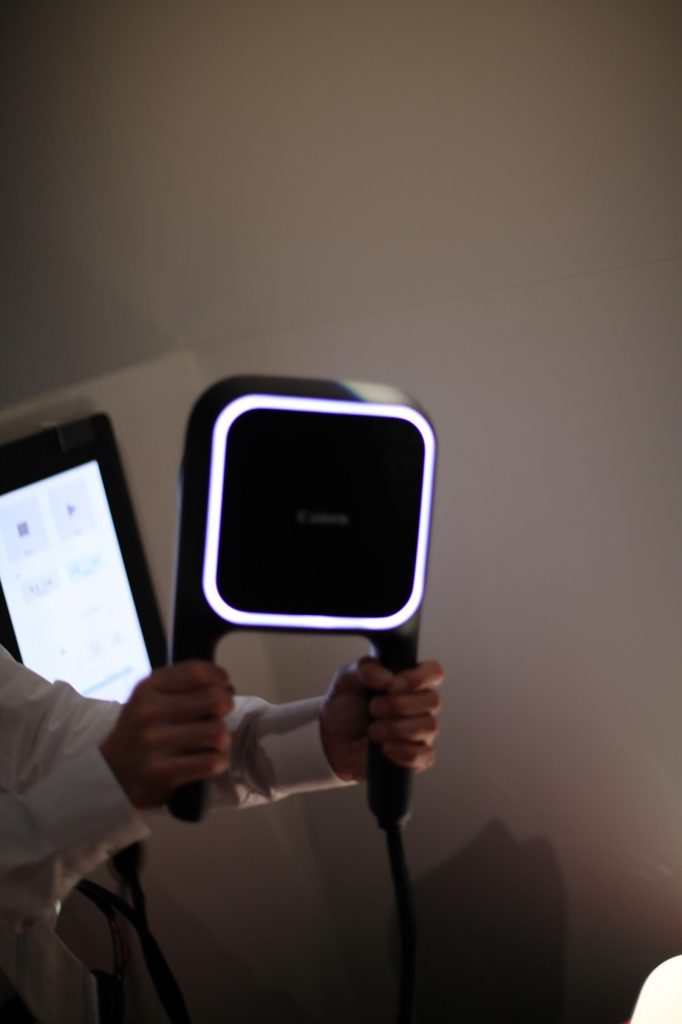 In Conclusion
Each half-decade-apart Canon Expo carries weight and significance simply because it is held every five years. A lot can happen and does happen in that span of time. The Canon Expo 2015 Tokyo held particular importance because of what will occur and where it will occur in the year of the next Canon Expo – 2020, in Tokyo. With Tokyo being chosen as venue for the 2020 Summer Olympics and Paralympics, the government, country and businesses are putting all their weight into promoting anything and everything Japanese – including Japanese innovation and technology. As Canon is an official sponsor and will most likely have it's technology playing a prominent role in the 2020 games, it only makes sense that the company puts emphasis on 2015 Expo. It will be exciting to see what technologies featured in the Canon Expo 2015 Tokyo make their way into the marketplace and mainstream. Hopefully, by that time, we will be so accustomed to the innovations that we will have an appetite for even more by the 2020 Canon Expo!